NEWS »

Biometric technology and new automated border control gates launched to streamline check-in, immigration checks

400-page report says one former FIFA official thanked Qatar for a transfer of several hundred thousand euros just after Qatar was awarded 2022 tournament

Self-driving vehicle is result of partnership with Atsao Singapore Limited; is equipped with cameras and sensor radar

Propertyfinder Group data shows median Dubai property sales prices have fallen by 20% in past 18 months

New fines announced for violations relating to seat belt use, children in cars and tinted windows

Bank of America Merrill Lynch says Kuwait is in strongest position as oil prices continue to slide

CEO Michael O'Leary says ready to make bid if administrators of troubled carrier undertake key reforms

Honour is recognition of pioneering role in supporting and expanding regional publishing industries

Dubai Electricity and Water Authority says 40km of water pipelines will be added under new contract

Launch of Saudi Arabia's parallel market for smaller firms sees 10 IPO issued in Q1, the most since 2012

Prince of Monaco full of praise over renewable energy efforts during visit to UAE pavilion at the Expo 2017 in Astana

Emirates Red Crescent delivery is part of humanitarian effort to support Yemeni citizens during ongoing conflict

InterContinental Hotels Group signs agreement with Bukhamseen Group Holding Company
OPINIONS »

The truth is, influence can be won and lost — often overnight.

Aruba Khalid, senior analyst at The Delma Institute, says Saudi Arabia's reforms have helped its potential inclusion on the MSCI Emerging Market Index

Comment: A run-in with the tech giant's customer support programme suggests there are still benefits to human interaction.

The story of the country over the past 10 years helps explain why Abu Dhabi is prepared to speak out against Doha.

Opinion - "It is part of our efforts to create a generation of politically savvy young Emiratis".
PHOTOS »

US President Donald Trump and First Lady Melania Trump welcome Indian Prime Minister Narendra Modi at the White House visit that will allow the leaders to build personal rapport but is less certain to produce significant progress on issues such as immigration.

Emirates Team New Zealand dramatic victory over Oracle Team USA on the final day of the 35th America's Cup match presented by Louis Vuitton

Eid Al Fitr was celebrated across the world on Sunday and Monday with the morning prayers, which marks the end of the Islamic holy month of fasting 'Ramadan'.
VIDEOS »

This supersonic aircraft may cost $200 million but it's bringing supersonic air travel back to consumers.

Saudi Arabia's King Salman has promoted his favoured son, Mohammed bin Salman, to crown prince in a shake-up of the established succession order that clears the young royal's path to the throne.

Google announced it will no longer scan users' Gmail accounts to stockpile databases for advertising purposes. Over 1.2 billion people have Gmail accounts.

Snap Map is available for iPhone users now.
Latest Reader Comments
Dubai banking giant appoints first female Emirati as CEO
Patrick : Mabrouk hayati...


UAE - Wednesday, 28 June 2017 9:04 AM



Tested: Does a 'virtual' personal assistant work?
Evelyn Priess : Why you have gone so far? I am a VPA in the UAE and I am also member of the International Virtual Assistant Association. I live and work in the UAE. Its just that not many people know that we do exist!

...


UAE - Wednesday, 28 June 2017 9:04 AM



Revealed: huge disparity in Dubai school fees
expat08 : @juergen the amounts are meant for all of the school years of the child. Agree looks odd as one number. ...


uae - Tuesday, 27 June 2017 1:16 PM



85% of GCC patients say healthcare improvements needed
Jack Russel : Modernisation and digitisation is definitely a dimension to improve healthcare services in the gulf. However, that alone will not result in improvement in patient experience. Fact remains that not many successful doctors are willing to re-locate to Gulf by giving up their existing flourishing practi...


Bahrain - Tuesday, 27 June 2017 9:12 AM



Apple's Genius system is devoid of logic
Animatedude : Thanks A LOT for posting this

Apple stores in the UAE are the only stores in the world i think that you can't book an appointment online, which is ridiculous!

Whoever decided this , clearly doesn't understand how things are done in this country.

Plus, Apple stores in the ...


Saudi Arabia - Tuesday, 27 June 2017 9:09 AM



All READER COMMENTS
| | | |
| --- | --- | --- |
| 1. | We reveal the best of the best in our widest ever search around the globe | |
| 2. | Diesel prices to fall by 6.59%, says Ministry of Energy | |
| 3. | Zarooq Motors' SandRacer 500GT goes against regular supercars that are "not designed for speed bumps" | |
| 4. | Bob Corker's threat to block weapons deals may add clout to efforts to bring feuding parties toward an agreement | |
| 5. | Social change in Gulf kingdom poses dilemma for Commission for the Promotion of Virtue and the Prevention of Vice | |
| 6. | Jadwa Investment forecasts growth of just 0.1% this year compared to 1.4% in 2016 | |
| 7. | Foreign minister makes reference to Doha allowing Turkish troops on to its territory | |
| 8. | Contribution to country's GDP to grow 2.9% to $44.6bn in 2017, says report | |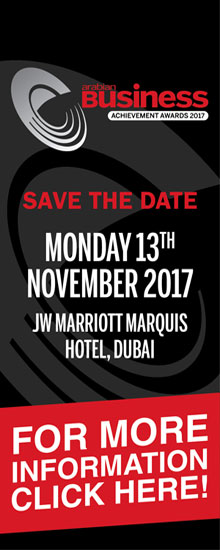 FEATURES & ANALYSIS »

Why the youngest crown prince in living memory represents a broader youth revolution in Saudi Arabia

From Dolce & Gabbana to Michael Kors, major brands are catering to lucrative Gulf markets during the Muslim holy month

Profile: New heir to Saudi throne holds power beyond his years

Yemen, the Saudi economy and the Qatar-Gulf crisis will be high on agenda for Mohammed bin Salman

Commercial costs are rising and banks are pulling money out of the peninsula state as the row with Gulf neighbours continues.

After decades of success in the region's construction and interiors market, Indian billionaire Rizwan Sajan, founder and chairman of Danube Group, is on a mission to take the Dubai property market by storm.

Comment: A run-in with the tech giant's customer support programme suggests there are still benefits to human interaction.

Three generations after Rai Bahadur M.S. Oberoi started his hospitality career as a doorman, the five-star Oberoi and Trident hotels are thriving. The renowned Indian family meets Arabian Business in Ajman, where Oberoi Al Zorah resort recently opened.
Make an impact this month with a powerful fragrance tha...

Local companies and CEOs are spending millions on marin...

The co-founder and CEO of local ride-sharing behemoth C...

Sponsored content: For Alisha Moopen, the executive dir...

Rest and rejuvenation is but a stone's throw away from ...

Set in a 45,000-acre game reserve, Singita Castleton ha...

Range Rover has pulled the wraps off the Velar, its fou...

With crystal chandeliers, gilded columns and a terrace ...